LAWRENCE JOHN BORDA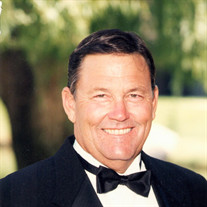 Larry Borda was born February 20, 1945, in Bakersfield, California, to Pete and Blanche Borda. He died peacefully in his home surrounded by his family February 24, 2016. He attended both Garces Memorial High School and Bakersfield High School, ultimately graduating from BHS. He joined his family farming operation in 1966 where he and his brother eventually formed Borda Brothers, Inc.. In 1996 he joined the fleet sales team at Jim Burke Ford, until he retired in 2008.
In 1967 Larry married his loving wife, Peggy Gorshe, of 49 years. As a devoted family man, they raised their three children on their home ranch. Larry was very active in his children's lives; he coached little league baseball, raised show lambs for 4-H and served on the Rio Bravo-Greeley School Board. Larry was extremely proud of his children and loved sharing their accomplishments with friends and customers.
Larry's infectious smile and warm personality drew people to him. He was known all over Kern County and had many friends. He was part of the Shafter men's organization, Three B's. He loved socializing and eating out, frequently patronizing Bakersfield's Basque restaurants and Mexicali West. He was an avid LA Dodger fan, a frustrated bowler, and enjoyed traveling in the family RV. Golf was another point passion, which he played with his son, son-in-law, grandsons and friends. Spending time with extended family and friends was something Larry truly cherished, especially the summer and holiday trips to Bass Lake. He will be missed by all who knew him.
Larry is survived by his wife, Peggy; his son, Bob (Keri); daughters, Shelley Vitarisi (Peter) and Lisa (Rick Betancourt); grandchildren, Matthew, Megan and Jacob Borda, and Audrey, Tatum and Nicholas Vitarisi; sister, Janet Erassarret (Jean); brother, Pete (Kay); and many nephews and nieces.
The family would like to thank Maryann, Lee and Nicole for their care during the past three years. A special thanks also goes to Dr. Steiger of Kaiser Permanente and Hoffmann Hospice.
Visitation will be held Wednesday, March 2, from 4:00 – 8:00 pm at Greenlawn Mortuary, 3700 River Blvd., with a recitation of the Rosary at 6:30. Funeral Mass will be celebrated Thursday, March 3, 10:00 a.m. at St. Francis Church, 900 H Street. Graveside service will be held Friday, March 4, 11:00 a.m. at Shafter District Cemetery. In lieu of flowers, donations in Larry's memory may be made to the Alzheimer's Disease Association of Kern County (ADAKC).www.greenlawnmortuaryandcemetery.com/obituaries/Larry-Borda/ 
Brother: Robert P. Borda