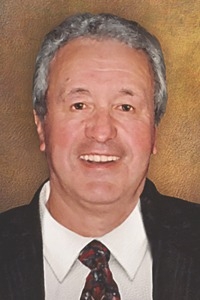 Jean-Baptiste ("J.B.") Curutchague passed away peacefully at home surrounded by his family on November 15, 2015, at age 81.
J.B. was born in Bussunaritz, France, on March 30, 1934 to Jean and Gracianne (Casenave) Curutchague. He lived in Iholdy, France, with his parents and five siblings. At age 13, he left his family home to work as a farm hand to earn money for his family. He worked hard, but also found time to play handball ("pilota") and Basque dance. He was very accomplished in both activities.
He left the Basque Country at age 19 to herd sheep in the Rocky Mountains of Wyoming. After three solitary years of herding sheep, he moved to California to work as a dairy hand. During all the years he spent working for others, J.B. dreamed of starting his own bar/restaurant where he would be protected from the elements.
In 1963, J.B. moved to Bakersfield to tend bar at the Pyrenees Cafe. It was here he met the love of his life, Marie-Therese Etchamendy, who was a cook at the Wool Growers Restaurant. J.B. and Marie married in 1964. In 1969, they realized J.B.'s lifelong dream and opened "J.B. and Marie's" Chalet Basque Restaurant. The restaurant first opened in Wasco and later moved to its historic Oak Street location. The couple was blessed with two children, Elizabeth and Christian.
J.B. thoroughly enjoyed his years as a restaurant owner. He served countless customers with great humor and an infectious smile. He had a knack for remembering names and favorite drinks, and was a great listener. He was generous and considered his customers to be his personal friends. He was also a baseball fan and enjoyed fishing, trips to the Central Coast, travels throughout the world, and playing pilota at the Basque Club. Above all, J.B. was a man of strong Catholic faith with an endless love for his family.
In his later years, J.B. co-founded Curutchague Farms, a pistachio and almond farm, with his family. He was extremely proud of his new venture. Unfortunately, J.B.'s life was soon devastated by progressive supranuclear palsy (PSP) from which he suffered for several years, but which he fought with dignity and faith.
J.B. was preceded in death by his parents, his sister, Veronique, and his brother, St.-Martin. He is survived by his wife of 51 years, Marie; daughter, Elizabeth (Allan); son, Christian (Emily); precious grandchildren, Ambroise, Sophia, and Veronique; sister, Gracie; brother, Sauveur; brother, Pierre; and numerous cousins, sisters-in-law, brothers-in-law, nieces, nephews, great-nieces, and great-nephews throughout the United States, France, and Argentina.
A Rosary and Mass of Christian Burial will begin at 10:00 a.m. on Monday, November 23, 2015 at St. Francis of Assisi Catholic Church, 900 H Street, Bakersfield, CA. Pallbearers are Steve Curutchague, John Etchamendy, Mark Etchamendy, Robert Etchamendy, Patrick Hayes, and Dominique Minaberrigarai. Honorary Pallbearers are Ray Bachoc, Steve Bass, Jose Luis Burusco, Ambroise Curutchague Sr., Jean-Pierre Dalia, Gracien Errea, Larry Errea, Paco Iturriria, Carl Fanucchi, Mark Lacher, Jim Murray, and Alfred Saldubehere.
In lieu of flowers, the family suggests that donations be made in J.B.'s name to: Cure PSP 30 E. Padonia Road, Suite 201 Timonium, MD 21093 (www.psp.org); the Kern County Basque Club Pilota Fund; or Hoffman Hospice.
The family thanks the Hoffman Hospice nurses and care givers, especially Christian, Angie, and Juanita. Our appreciation is also extended to Elva who took care of JB for six years with compassion and love. Finally, we thank the Minaberri family for always being ready to help us in our many needs and for their love and support.