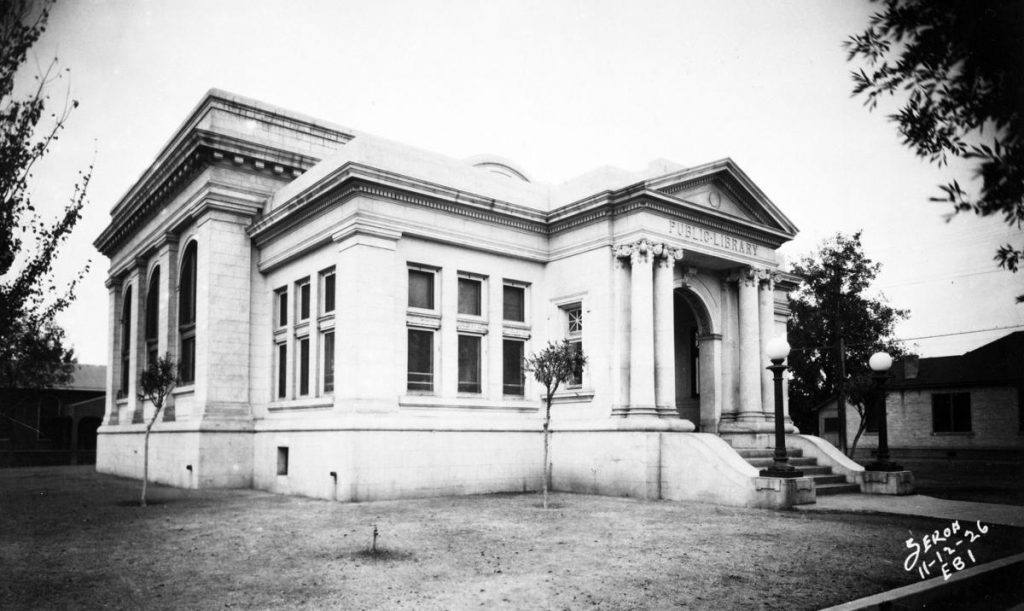 Written by Sandy McClure – March 11, 2017
Fondly remembering Baker St. Library. I went to St. Joseph's, also on Oregon St.-my grandmother and my cousins lived across the alley to the north of the library on Baker St., the alley led to the back entrance of Hopson's Mortuary which my Uncle Charles owned. So….I spent a lot of time in this lovely library. I remember it looking more like the old 1926 version, even tho that was quite a bit before my time. Wooden floor, high ceilings, lots of nooks and crannies for a hooked on books kid-and the joy when the librarian would remove the card from the book, stamp it and it was mine for 2 weeks! Wooden card catalogs holding yellowing cards for each and every book were astounding to me, and I couldn't wait to understand the Dewey Decimal System! I still love libraries and book stores.
History
* "East Bakersfield Library" on Baker and Oregon streets was approved by city trustees in April 15, 1913.
* $7,000 was offered to A.W. Marion for the land.
* A squabble over money with the contractor delayed its construction. Three buildings had to be moved to make way for the library.
* Construction cost was $26,000. It was financed through a local bond of $28,038.
* The building was finished on July 7, 1915 with a capacity for 30,000 books, and 200 magazines.
* The library opened on July 8, 1915.
* First librarian was Miss Anna Craig.
* "At one time there was a gentlemen's reading room in the basement. A dumbwaiter (elevator) running from the first floor to the basement was used to haul books up and down since the stairs are somewhat narrow." — Sherry Gomez, Kern County director of libraries.
Baker Branch
* The building was designed by Orville Lee Clark, who also designed dozens of other buildings in Kern County including Fremont School, Kern County Jail and the Noriega residence.
* Design was an Italian Renaissance version of Greek Revival federal villa, with 48-foot wings on the front and back, with grand six Doric columns in its entry.
"It is a sturdy square, symmetrical building appropriate for a Greek Revival Federal public building." — Richard C. Bailey during a plaque dedication ceremony.
* Survived the 1952 earthquake.
* Listed on National Register of Historic Places in April 1981.
* Closed in 1988 for renovation; reopened four years later with handicap accessibility, interior restoration, and refurbished heating, cooling and electrical systems. It was also nearly restored to its 1915 appearance.
* $1.1 million renovation was financed through grants from California Department of Parks and Recreation, and the Kern County and Bakersfield community development department.